Bitcoin is retesting the underlying trendline, the next stop at $ 14.300
According to TradingShot TS - an analyst Bitcoin well-known - there was some analysis to indicate that BTC would rise to a higher price. How tall? Well, the 'Basic Trendline' that TS announced in June this year suggests this rally will move towards the $ 6 zone.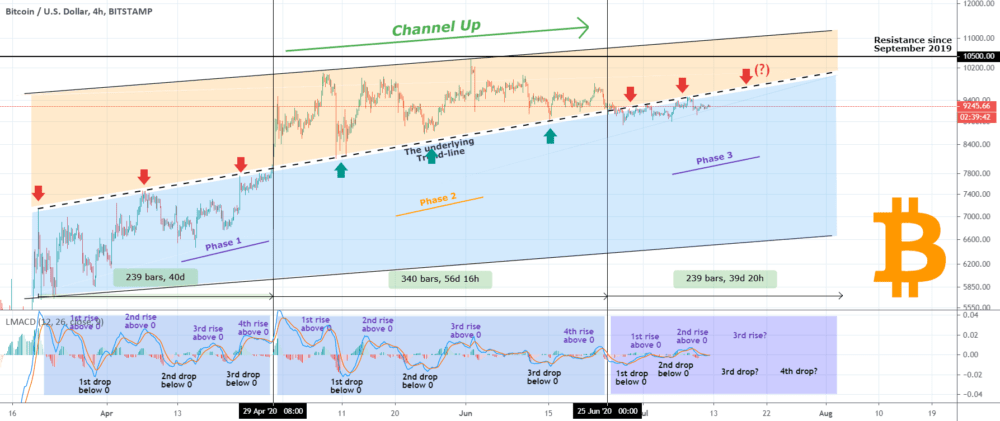 TS says that Bitcoin's current fundamental trendline has been the most consistent trend line since March. BTC is testing it again. TS reminded his followers of the same thing and mentioned the culmination of price action that strong bullish momentum can take place whenever there is a 'upside breach' of the trend line.
The analyst says that everything is almost the same as in April where BTC is experiencing a long accumulation.
Speaking in detail on technical analysis, TS looks at bitcoin's price action in the aforementioned 'Channel Up' (up channel) and one of the other important aspects is the Fibonacci extension. Extrapolating the 3.000 Fibonacci extension 'from the 3rd peak after the previous one' gives us an idea of ​​the next local peak.
If this calculation is correct, Bitcoin price possibly towards the region of $ 14.300.
Analysis from Bloomberg: BTC is priced at $ 14.000 in 2020.
Earlier this month, Bloomberg senior strategist Mike McGlone said that Bitcoin price could reach $ 100.000 by 2025. However, it is important to note in Mike's prediction that the top cryptocurrency is. will cost $ 14.000 by the end of 2020.
While adding about his price forecast for this year, Mike mentioned "30-day average active Bitcoin addresses from Coinmetrics". According to him, BTC's active addresses are 'a leading indicator of a recovery in 2019'.
Looking at the current trend of Bitcoin wallet addresses, the strategist says that the trend is closer to the $ 15.000 mark than to $ 10.500 (as of October 2).
Unless these gauges are reversed, it is unlikely that the price will drop. - Commodity strategist BI said.
Kraken also predicts similarly
Quote In its August 8 Bitcoin volatility report, crypto exchange Kraken pointed out that following previous trends, September has always been a bleak month for Bitcoin. But from October onwards, BTC will be in a cycle of 'volatility increase' and price action in the opposite direction.
According to calculations, Kraken said bitcoin has almost 2 months to record new gains for investors and surpass the 315-day moving average.
---
Read more: